Wishlist Wednesday is a book blog hop where we will post about one book per week that has been on our wishlist for some time, or just added (it's entirely up to you), that we can't wait to get off the wishlist and onto our wonderful shelves.
My name is Katniss Everdeen. Why am I not dead? I should be dead.


Katniss Everdeen, girl on fire, has survived, even though her home has been destroyed. Gale has escaped. Katniss's family is safe. Peeta has been captured by the Capitol. District 13 really does exist. There are rebels. There are new leaders. A revolution is unfolding.




It is by design that Katniss was rescued from the arena in the cruel and haunting Quarter Quell, and it is by design that she has long been part of the revolution without knowing it. District 13 has come out of the shadows and is plotting to overthrow the Capitol. Everyone, it seems, has had a hand in the carefully laid plains--except Katniss.




The success of the rebellion hinges on Katniss's willingness to be a pawn, to accept responsibility for countless lives, and to change the course of the future of Panem. To do this, she must put aside her feelings of anger and distrust. She must become the rebels' Mockingjay--no matter what the personal cost.
I loved both Hunger Games and Catching Fire. I've been told that Mockingjay is a little bit dissapointing, so I waited, and did not read it. It's on my wishlist though LOL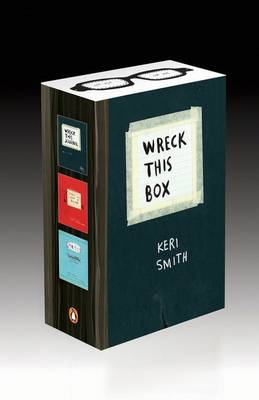 Wreck This Box by Keri Smith
I came across Wreck This Journal on tumblr when someone posted a picture of this horribly disfigured book. I was horrified. Since I am one of those people who takes good care of their book you can imagine how I felt seeing this muddy and torn poor little thing. I couldn't believe my eyes. Is this for real or is someone messing with me that this is actually a book?,I thought so I went and Googled Wreck This Journal. (I dare you to do the same) I stayed up late and watched picture after picture of this mess. The next logical step I could think of is-I need to order it! So I will be ordering this boxed set that contains Wreck This Journal, This Is Not a Book and Mess. Wish me luck and strength on actually destroying it when it arrives because I have no idea how will I do it. There will probably be a lot of crying involved.